Dreaming of having a putting green installed in your own backyard? This fantasy is becoming a reality for more
golf enthusiasts.

A low-maintenance alternative to real grass is a synthetic green. Pietsch Landscaping can customize your own synthetic putting green with either gradual slopes or challenging undulations. We will help you create a putting surface that has character, variety, and interests.

The synthetic turfs (1/2" and 1") we use are a professionally manufactured polypropylene product, and unlike the turf found at your local miniature golf establishment.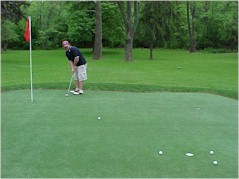 Technology has created a putting turf that is protected from UV rays and is designed to last year after year even in severe weather. We are able to adjust the speed of the green to suit your needs. A coal slag infill is used to keep each fiber vertical and will not mat down over time. This infill provides a non-compacting, flexible, sponge-like putting surface.
You will have the ability to improve your short game at home at your convenience. Entertain family and friends. A synthetic putting green will increase value and enhance the appearance of your home, and will be an outstanding conversational piece.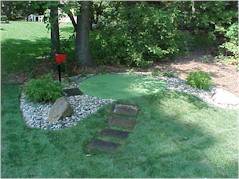 Strategic placement of your green will allow for multiple chipping areas from different directions. Tee box areas and sand traps are also available to enhance your green and give it a more realistic look. A crushed quartzite bunker sand is used in all trap or bunker installations, not sand from your local hardware store. Accessories such as ball washers, trap rakes, regulation flags, putting flags etc. are available for your green.
Whether you prefer grass or landscaping around your green, Pietsch Landscaping will meet your specific needs.